First Canadian Google Summit a Success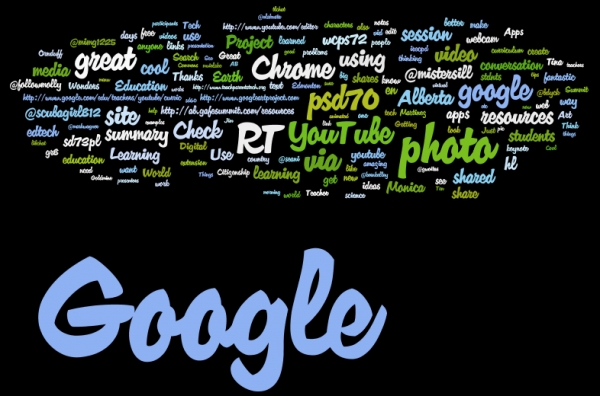 Photo: Wordle derived from #gafesummit tweets
The first Google Apps for Education™ Summit in Canada was led by ERLC on behalf of ARPDC at the Fantasyland Hotel on February 25 and 26th. There were 540 participants representing 47 of the 62 school jurisdictions in Alberta. The first annual Google Apps for Education™ Alberta Summit offered participants a choice of 68 sessions including Keynotes and breakout sessions. Session resources available at http://ab.gafesummit.com/resources Presenters included 13 members of the Google EdTech Team from all over the United States as well as 16 highly skilled teachers and Tech Leaders from Alberta.
The excitement in the air the first morning was palpable as participants filled the ballroom. Tina Ornduff from Google Earth Outreach started off the two days of learning by sharing a myriad of ways that Google Earth can be used in the classroom. Breakout sessions were overflowing and keen participants rushed to each session early to be sure to get a seat. The Demo Slam at the end of the first day was a highlight for many participants. Presenters from Google as well as local presenters each had 3 minutes to share their most geeky use, tip or trick of a Google App and participants then went online to vote for their favourite.
Day Two started off with the announcement of the Demo Slam winner, Monica Martinez from the Google Ed Tech team. Monica showed the crowd 5 Apps and best uses in her 3 minutes! Tuesday's keynote speaker, Jim Sill, was a definite crowd favourite and he had participants laughing and learning as he challenged everyone's thinking about effective use of pictures and videos in our society. Participants again were eager to attend all of the breakout sessions, and many lined up to get into sessions 30 minutes before they began. Chris Bell wrapped up the Summit with encouragement for all to continue the learning.
The Google Apps for Education™ Alberta Summit consisted of two long days of learning. Participants were excited and exhausted with all they had learned and are looking forward to the 2nd Annual Google Apps for Education™ Alberta Summit, already in the planning stages.