Where do YOU fit in this picture?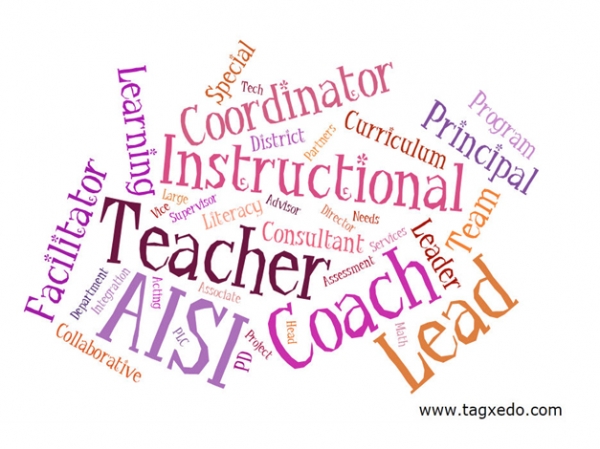 Photo: Click to enlarge
This Wordle depicts the terms participants used to "label" their role in the district as a "coach" at a recent session with Laura Lipton.
Alberta Education is describing the job of the learning coach "to work collaboratively to build the capacity of the school and its teachers for creating and sustaining inclusive learning environments that meet the diverse learning needs of all students." A broader definition was shared at a recent CASS/Alberta Education event as "...the focus of this position is to build the capacity of teachers to be better able to meet the diverse needs of students."
Districts are often using the term more broadly to ensure that all teacher leaders are modelling characteristics of an adult learning facilitator/coach – an individual who is supporting the capacity of others. Joellen Killion in her resource with Cynthia Harrison titled Taking the Lead: New Roles for Teachers and School-Based Coaches describes the 10 roles of teacher leaders in the following descriptors. If your role as a "coach" is described in one of the following, or if your district wishes to develop the capacity of teacher leaders with one or more of these focus areas the Leading Our Way Forward conference is targeted for you.
Are you?
Learning Supporter:
Identifying school needs in order to implement a high quality professional learning plan which will enhance teachers' abilities to address the diverse strengths and needs of learners
Change Agent:
Promotes exploration and change in instructional practices (e.g., introducing innovative ideas, questioning practices, making observations, exploring new technology)
Instructional Specialist:
Facilitating the use of research-based teaching strategies and promising practices (e.g., differentiated instruction, positive behavior supports, response to intervention) to ensure that all students have access to meaningful and effective learning opportunities
Resource Supplier:
Provides relevant, meaningful, research-based, and "learning appropriate" information and resources upon teacher request
Classroom Advocate:
Builds teacher capacity to explore innovative instructional practices through systematic modeling, co-teaching and feedback
School Leader:
Works closely with school leadership team to promote and support school improvement that aligns with district vision
Lifelong Learner:
Models, experiences and promotes continuous learning experiences (e.g., asking questions, researching possibilities, seeking a variety of options)
Assessment Guide:
Helps teachers to select, understand and use data to improve instruction and enhance student learning
More than likely, you have been called upon to fulfill more than one of these roles (from Killion and Harrison, 2006). The Leading Our Way Forward conference is designed to support you and your team in increasing your capacity to create a culture for learning for all students and staff. Based on a review of Alberta school authorities' current work in developing capacity in support of school improvement, three elements were cited as the most strategically important in fostering a strong professional learning culture:
Building trust-based, collegial relationship
Facilitating and modeling instructional strategies
Promoting and contributing to systemic change
Keynote presenters were selected to support your learning in these areas, with topics including Creating Collaborative Cultures: Coaching and Empowering Educators Through Change with Bernajean Porter; Facilitating and Modeling Instructional Strategies "Adaptive Schools" with John Clarke; Promoting and Contributing to Systemic Change "Fireside Chat" with Jim Brandon (CASS) and area superintendents Michelle Dick (Sturgeon), Edgar Schmidt (Edmonton Public) and Kim Jenkins (Fort McMurray Catholic); and Coaching - Creating System-wide Support with Joellen Killion.
This conference will focus on supporting you in building a culture of learning specific to:
* Developing and/or enhancing a vision and plan for leadership capacity and the emerging role of "learning coaches"
* Creation of implementation plans and approaches to support the changes your wish to occur in your context, based on ministry directions such as Inspiring Action and Action on Inclusion.
In order to facilitate meaningful collaborative planning attendance with your district/school leadership team is essential. Bringing authentic work is key to making the event more than just another conference. The conference design will include opportunities for "team table talk and planning time" following the keynotes.
For more information or to register for this opportunity click here...