ERLC Website Gets a Makeover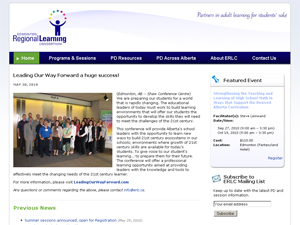 Photo: ERLC's New Website
Welcome to the new ERLC website!
This site includes an enhanced registration system, improved navigation and search, PD resources, mailing list subscription, and featured events.
Improved Registration System
Registrations submitted online are now processed instantly! Registration is an easy three steps: select your session, enter your name, and submit payment information. You will receive a registration confirmation immediately.
PD Resources
A new section entitled "PD Resources" has been added to assist you with supplementry information relating to learning opportunities. Many of these resources are designed to continue the conversation; and extend learning beyond the session you attended to enhance the overall learning opportunity. PD resources also includes materials for PD leaders to support facilitation of learning opportunities in your own district and context.
Mailing List Subscription
Want to keep up to date with all of our latest learning opportunities? Sign up for the ERLC Mailing List on the right side of the homepage.
Featured Events
From time to time, ERLC will highlight major events, conferences, or special speakers. See the Featured Event section on the homepage.